Powering the New Era of Virtual Events with TruNET's High-Speed Temporary Internet Service
Does your business need a temporary broadband solution? TruNET Events Broadband On Demand can make your events happen and seamlessly possible!
With the COVID-19 pandemic in the background, the number of business events pivoting to virtual platforms has tremendously increased. Businesses have learned to adapt to uncertain times, employing ways to seamlessly reach their market without compromising health and safety protocols.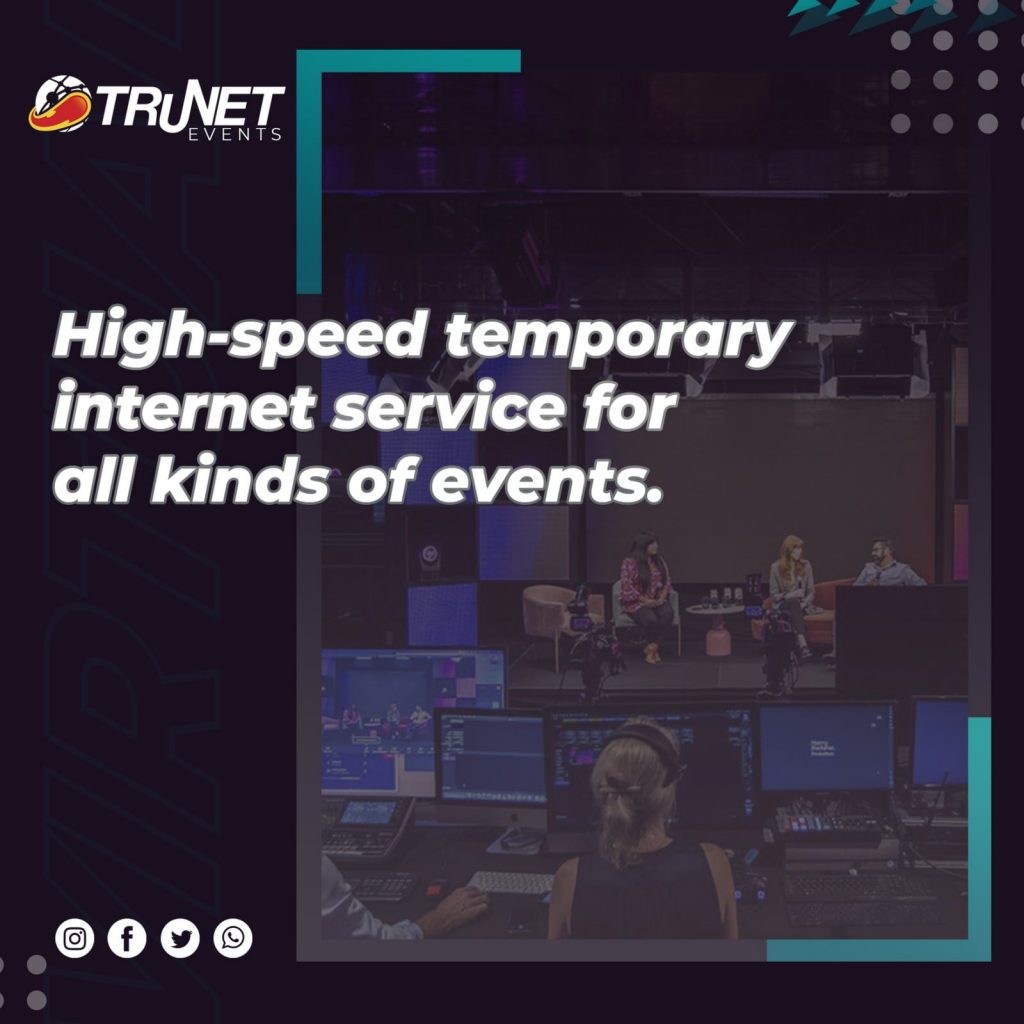 Navigating a new era of virtual events needs a secure, reliable connectivity, delivered by a dependable service provider who understands your very needs.
Whether it's a company virtual party, an upcoming webinar, or a brand launching, TruNET Events Broadband On Demand can meet the overwhelming demands and unique needs of any project of location.
Power your event with fast and on-demand broadband service to achieve a seamless run and the best experience for your event! TruNET Events Broadband delivers temporary internet experience with a guaranteed speed of up to 100Mbps, enough to meet the overwhelming demands and unique needs of any project or location.
TruNET Events Broadband is one of the many solutions of T2G Network Innovations, Inc. A leading industry expert in technology, connectivity, and security.
TruNET Events Broadband: Making Virtual Events Seamlessly Possible for Every Client
In T2G, we value meaningful partnerships. We believe that a growing community means that we have earned your trust as a service provider of high-speed, reliable temporary broadband solutions.
This year, we are glad to welcome the following business organizations to our roster of clients:
Digicon Events Corporation
Justin Bella Alonte Photography
Post Ad Ventures, Inc.
The Blue Leaf Cosmopolitan
Whitespace Inc.
In Need of a Temporary Broadband Solution for Your Event?
Contact us today to schedule your temporary internet connection. Our on-site dedicated support team is ever ready to monitor all network activities closely. When it comes to finding the right event broadband provider, responding to your needs is our top priority!